Bernina Artista 180E Sewing and Embroidery System
Here is your chance to own a fantastic fully customizable sewing and embroidery system. This is a special edition Bernina Artista 180E 2000 with all original accessories and attachments. Also included are some optional accessories and supplies.
For someone who has been looking to start machine embroidery, you will receive everything you need to get you started; for the more advanced, you can add a top quality system to your collection. There are 1,000's of stitches to choose from, as well as hundreds of designs. Whether your are a serious sewer, or part-time hobbyist, your options are limitless. You only need supply your item to sew or embroider and your own creativity, let the Bernina Artista do the rest.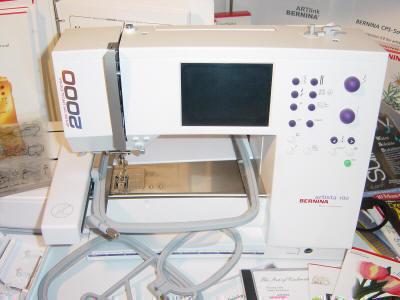 This machine has only had one owner and has been properly maintained and serviced at the dealer. It was upgraded with additional designs, stitches, and an embroidery stitching speed of 880 spm. The embroidery module has a memory card slot and 4mb memory. This package includes all original accessories, Artlink and CPS disks, instruction videos, The Mastery Series, The Art of Embroidery Series, The Best of Bernina Designs (incl. Suzy's Zoo, Debbie Mumm, Precious Moments, and others) , as well as many other supplies and accessories, stabilizers, thread, embroidery magazines and books.
The wonderful features of this unique system include, but are not limited to:
- knee activated FHS (Bernina patented hands-free system) - this is a great feature, especially if you do a lot of piecework/quilting, I love it!
- adjustable needle position with foot pedal
- needle stop up or down mode
- touch screen with on screen help and tutorial
- design templates
- automatic and manual buttonholes
- automatic needle threader
- 16 directional sewing
- multiple speed stitching
- can't go wrong sewing - machine will always indicate correct presser foot to use
- detachable sewing table
- free-arm embroidery
- hard storage case
- vertical spool holder
- multiple thread cutters
- many feet included
- eco mode - select sleep mode to temporarily shut down without losing program/design you are working on
- repeat/half/mirror pattern
- detachable accessory case - keeps your presser feet, tools and accessories neatly stored and accessible
- Artlink software - resize, alter designs and transfer directly to machine or personal design cards
- CPS (Customized Pattern Selection) software - transfer stitch and design packages between machine and computer - you choose exactly what you use and want on your machine
- small and large hoops - sew designs up to 6" x 10" (can also purchase the mega-hoop to stitch extra large designs without rehooping)
- optional medium hoop (purchased separately)
- hoop templates
- free arm embroidery adapter
- protective carrying case
- resize/rotate designs on screen with system automatically adjusting to correct stitch density
- on screen design info: stitching time, size, hoop, etc.
- color charts of designs with thread colors and conversions
Included with this system are the following:
Sewing:

- machine
- carrying case
- foot control
- instruction manual
- power cable
- FHS (free hand system) presser foot lifter
- sewing table
- bobbins
- needles
- seam ripper
- small screwdriver
- lint brush
- seam guide
- #1C reverse pattern foot
- #2A overlock foot
- #3C buttonhole foot
- #3C automatic buttonhole foot
- #4 zipper foot
- #5 blind stitch foot
- #20C open embroidery foot
- #40C sideways motion foot
- height compensation tool
- vertical spool holder pin
- three spool discs

Embroidery:

- embroidery module
- large embroidery hoop with template
- small embroidery hoop with template
- adapter for free arm embroidery
- #9 embroidery presser foot
- embroidery module carrying case
- net for upper thread spools
- accessory guide
- stitch guide templates
- ARTLink software
- CPS (Customized Pattern Selection) Software
- The Art of Embroidery CD's
- Artista Sewing and Embroidery video
- Artista Embroidery - espresso yourself- video
- accessory tool case

Additional accessories and supplies not originally included with system:
- medium embroidery hoop with template
- The Mastery Series - a step-by-step guide to learning your system with easy to use directions to create your first projects
- 101 Ideas for Machine Embroidery from Country Stitches
- Artista Quick Reference Card
- OESD Quick Reference Card with stabilizer, need, tension, placement guide and measurement conversion table
- sewing and embroidery magazines
- assorted threads
- cones of bobbin thread
- NEBS prewound bobbins for embroidery
- assorted stabilizers
- assorted needles
- spray adhesive
- serial computer cable

| | | |
| --- | --- | --- |
| | machine with embroidery module attached, sewing table, hard case, feet and accessories with case, FHS, foot pedal, computer cable | embroidery speed of 880 spm |
| version numbers | manuals, software, video tapes, and additional training manuals and software | hoops, hoop guides, and templates |
| additional books, guides, and magazines | embroidery carrying case and additional supplies | |
Price: best offer over $2,200
(Original retail value over $4,500)
Items will be shipped in three separate cartons - the two original Bernina boxes with original packing materials, and all the additional supplies and accessories in a well packed and protected shipping carton.
Please email me for additional information, questions, or shipping quotes.